Posted by Dr.Jimmy on 14th Nov 2022
If you're curious about the origins of Dr.Jimmy's, and the humans behind your favorite hemp skincare brand, here's a little Q&A with founders Elvis "Papi" Edwards and Drew Farwell.
Why did you "found" Dr. Jimmys?
Elvis: I have been interested in cannabinoids since watching my father practice natural medicine in Dominica for many years. My Father incorporated many herbs, including cannabis, that really helped people with a wide range of conditions. When Colorado was moving to legalize cannabis for medical use, I wanted to be part of the movement, so I packed my bags and moved to Denver in 2000. Since that time, I've launched several canna-businesses, and over the past few years, I have been fascinated by cannabidiol (CBD) and how this could apply to skincare. Working with Drew, whom I got to know from working in the cannabis industry, we got on the topic of CBD products we hadn't seen yet, and were completely surprised that there were ZERO sun care products that had CBD. We knew right away we were on to something big, so we founded Dr. Jimmy's as a fun, but science-based, skincare company that is focusing on the unique healing benefits of hemp for all skin types. This is my passion, and I'm so excited to share Dr.Jimmy's with everyone from the Caribbean to Denver, Colorado!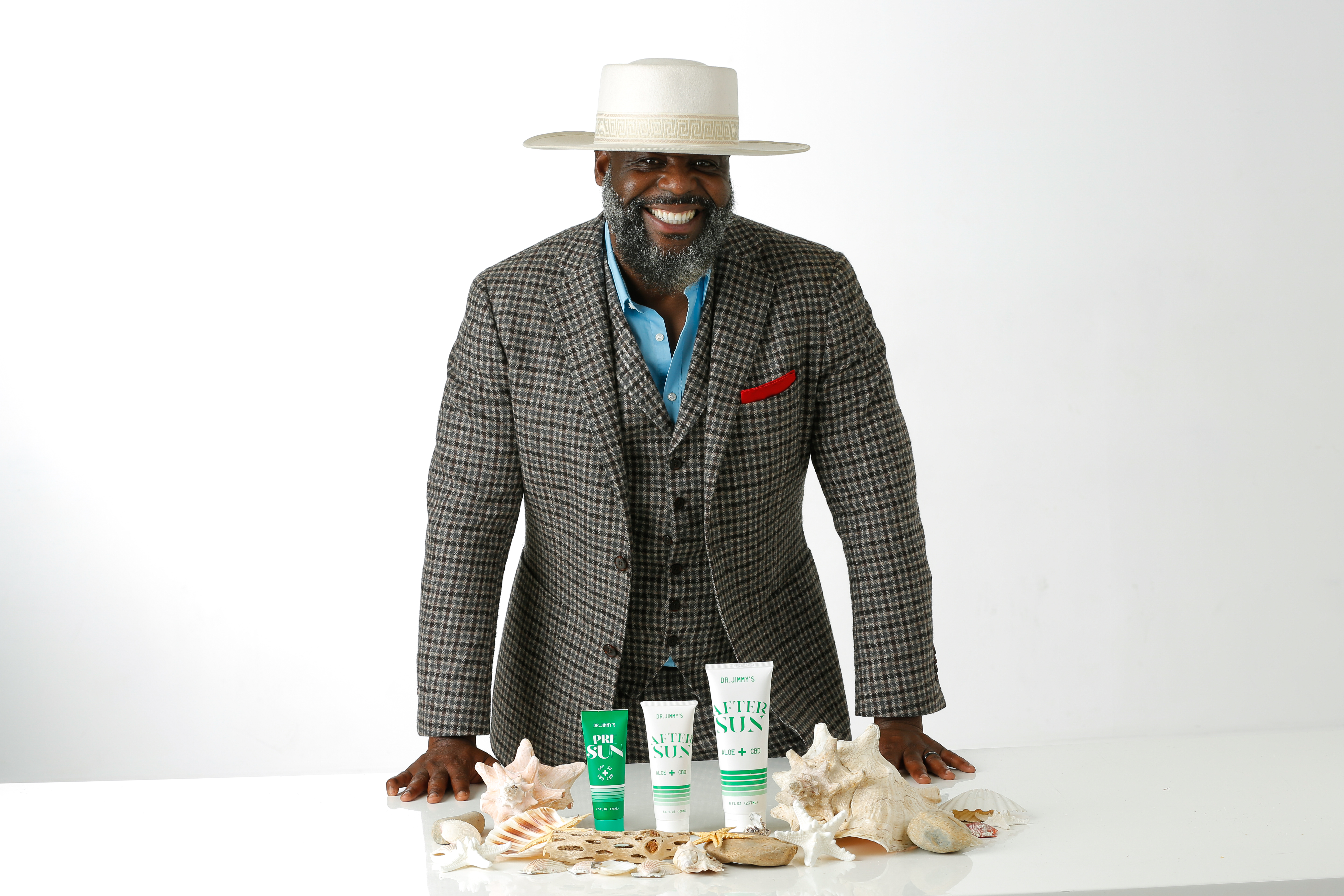 Drew: Like Elvis, I've worked in the industrial hemp and cannabis space for several years in sales marketing, and cultivation. After navigating the early days of this hemp "renaissance", I finally got an opportunity to build a different type of cannabis company with Elvis. I like that we've started with unique outdoor products no one else is making, I love our style, and outside of the products, our dedication to equality and supporting diversity in the outdoors. For me, Dr.Jimmy's is a fun, quasi-medical, cannabis company that showcases what hemp (cannabis) is capable of. As someone who enjoys long surf sessions, hiking, snowboarding, and mai tai or two in the sun, I'm acutely aware of the need for protecting your skin. In fact, I was a little sunburned when Elvis and I had our first meeting to discuss what products we were going to start with and the light bulb went off: CBD is an amazing, natural, anti-inflammatory and would be the perfect companion to the aloe vera I'm rubbing all over my sunburnt skin. With that concept in mind, we started building Dr.Jimmy's first product, aloe vera and CBD "After Sun" gel. It's amazing, it not only works wonders on sunburns, but also on windburns, bug bites, and dry, itchy skin. I'm very proud of what we have accomplished in just 18 months with a lean team and budget, it's really made us focus on our products, gaining organic feedback, and growing naturally. That said, it's time to let the world know about Dr.Jimmy's.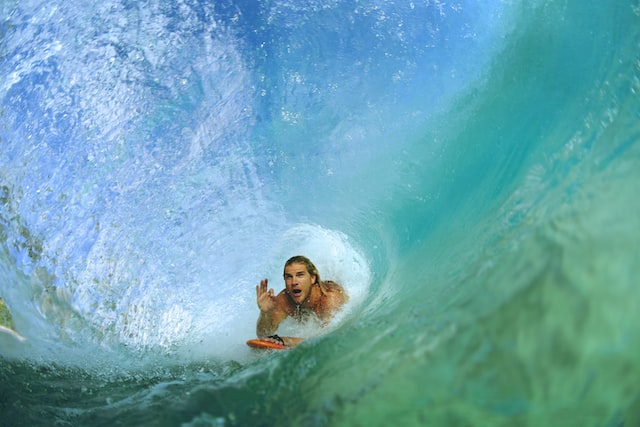 Who is Dr. Jimmy?
Drew: Dr. Jimmy is not an actual human, he's more of the spirit that embodies the company culture. We had fun bouncing around different company names and ideas, but we quickly landed on Dr.Jimmy's. Dr.Jimmy is your friendly family doctor that isn't afraid to give you a little sh*t for getting sunburnt but then hits you with his miraculous, natural, remedy that you now can't live without. Even though we can be a bit cheeky with our marketing, make no mistake, our products evoke science and medical efficacy when it comes to protecting and healing your skin. We work with a group of superlative scientists to formulate the products, go through strict quality control, and test; to make sure that Dr.Jimmy's products perform as advertised. Our new Pre-Sun CBD Sunscreen took over a year and a half of testing, none of which was on animals, just consenting adults, to finally come to market.
What have been your successes so far, any failures?
Elvis: One of my goals has always been to bring CBD products to the Caribbean. I can now honestly say we've made this one of our first successes with Dr.Jimmy's. In the first 18 months of operation, Dr.Jimmy's After Sun is the first CBD skincare product being sold in Antigua and Dominica. We are now expanding to St. Kitts, Barbados, Aruba, and every Caribbean island that cares to give their beachgoers and locals the best in natural skincare and protection.
Drew: Thanks for leaving me to discuss failures (Elvis)…just kidding. Like Elvis, I was eager to get Dr.Jimmy's off the ground in my own island backyard of Hawaii. I wouldn't say we have had failures as such, just challenges. It took us way longer than expected to get our sunscreen to market as the testing needed for sunscreen is pretty intense. Firstly, we needed to make sure it was Reef Safe. As a surfer, there's just no compromise when it comes to protecting our oceans and marine biodiversity. We also made sure we did this the right way, which is important to note because there are many in this industry that cut corners and harm the progress the cannabis industry is making; that's why for Dr.Jimmy's, it's essential our claims on our products are accurate and perform as they should. I'll wrap up with one area we are struggling in, and that is we're slow to see any success getting into big box retail stores like Target, Walgreens, Whole Foods, etc. but we're now working on several "interested" stores, so stay tuned.
Can you tell us more about the value of cannabinoids in skincare?
Elvis: CBD simply makes the skin feel and look great, no matter if you've got white, brown, or black skin. Although we initially described After Sun as a product to help after a day at the beach, I found through my own use, and those of friends and customer testimonials, that our After Sun is a perfect skin moisturizer. It goes on smoothly, has no aroma, and makes the skin feel great.
Drew: The science is pretty amazing: CBD works with just about every cell type in the skin from hair glands and nerve cells, to oil-producing cells. When it came to our After Sun formula, we wanted something that was natural, light and simple, that could quickly sooth angry burns, but also heal damage that leads to long-term damage. So we combined regenerative properties of aloe vera juice with the soothing capabilities of CBD…and the results were better than we anticipated. Now, that we've completed the 1 to 2 beach survival combo with the addition of our Pre-Sun CBD sunscreen, we're exploring some new and very exciting products like a scalp treatment, muscle rub for exercise recovery, and blister lotion (among others). We're constantly taking in customer feedback as to where we should go next, whether it's a new CBD products, hemp sun shirt, or even tropical cannabis retreats!
Taking a deeper dive, what's with hemp and sun protection?
Drew: Not many people know that sunscreens only block a portion of UV rays. For examples, the most popular sunscreen, sun protection factor (SPF) is SPF 30; which only blocks 97% of the sun's rays. Meaning the remaining 3% is still sneaking in and "hitting" your skin. Repeat exposure can lead to inflammation and premature skin aging. Again, relying on the latest science, cannabidiol (CBD) and cannabinol (CBN) have both been shown to destroy free radicals in the skin caused by UV exposure, while also inhibiting inflammatory responses caused by UVA and UVB rays. CBD is best for UVA rays, CBN is best for UVB rays which is why Dr. Jimmy's Pre Sun is the ONLY sunscreen that contains both cannabinoids.
What is next for you and Dr.Jimmy's?
Elvis: Right now, we are a humble, minority-owned company, with one-of-a-kind products. I'll be focusing a lot of effort to get the word out and let people know about our products, brand, and work to open more islands in the Caribbean, Hawaii, and other states to increase easy access to Dr.Jimmy's products. We always think about where our products apply, not just in the obvious sunny, beach communities, but also in Colorado ski towns where skiers need this product to protection and quick recovery options from high-altitude sunburns and wind burn. We think about retirement communities in California and Florida who should be using our products generously to help prevent premature skin aging, and even baseball enthusiasts watching games during spring training in Arizona and Florida, who are getting absolutely cooked and need to protection from the sun; any a little natural help on sore muscles. I could go on…but really we will be spending more time getting our message out.
Drew: Elvis is spot on for what we will need to focus on. In early 2023 we will get back with our development team to work on the next hempy addition to our CBD survival kit, and as always, I'll be out there floating on a board, or tanning my hide on a mountain for the sake of research and science!